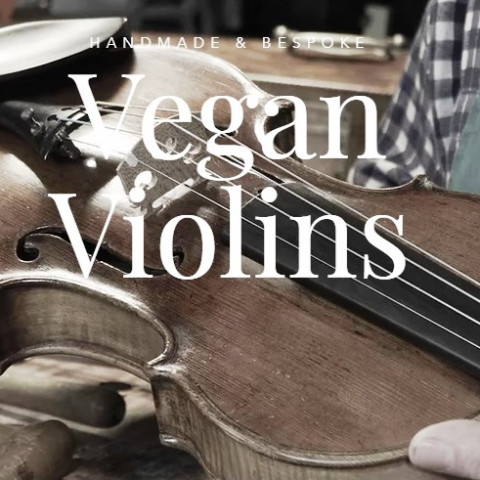 Padraig O'Dubhlaoidh
Company

Padraig O'Dubhlaoidh

Website
More about Padraig O'Dubhlaoidh
Vegan Violins (www,veganviolins.com) is the trading name of Padraig O'Dubhlaoidh, an Irish Violinmaker in Malvern U.K. now specialising in bespoke handmade violins, in the Cremonese style, which are certified as suitable for vegans.
Read more here: https://vegconomist.com/products-and-launches/vegan-society-certified-violin/
Key information
Instruments made to individual requirements. 100% Vegan, each comes with a certificate of authenticity and Vegan suitability. Open 9-5 Mon-Fri, or by appointment. Children and well-behaved pets are welcome.
Contact information
Website: www.veganviolins.com
Email: [email protected]
Telephone: 01684 562947
Mobile: 07801 523447
Location
10 Camp Hill
Malvern
Worcestershire
WR14 4BZ
United Kingdom
Accessibility
Wheelchair access: Yes
Wheelchair accessible toilet: Yes
Veganism
Are all the products your entity (business, brand, organisation) produces and/or retails suitable for vegans? If no, then, unfortunately, you cannot register as we only accept submissions from 100% vegan entities.

Yes

Which of the following best describes you (professionals and sole traders) or your organisation?

Vegan
Ownership
Is your organisation an independent business/brand or a corporate owned business/brand?

Independent

Are you a Grassroots organisation (for projects, charities/NGOs)?

No

Are you a BAME (Black, Asian & Minority Ethnic) owned/run business/organisation?

No

What type of business/organisation are you?

Sole trader

Are you a woman-owned/run business/organisation?

No
Social, Economic and Environmental Justice
Which social, economic or environmental justice causes does your entity (business, brand, organisation) support or promote (e.g. through social media posts, donations, attending protests and other direct actions etc.)?

Other